PPC, SEO & Conversion Optimization Help
Contact Us Today at
(214) 865-6647
Or please fill out the form below and a Rain Maker will contact you back.
Our marketing experts are certified in the following platforms:
Get Real Results – Call Now (888) 767-2375
PPC Rainmakers is the PPC company owned by Funnel Science.  Funnel Science helps companies grow marketing and sales funnels and Search Engine with a software that predicts online customer purchasing behavior. PPC/SEM Marketing is one of our specialties so we branched off into our own division and created PPC Rainmakers. You can also find us at SEORainmakers.com and EcommerceRainmakers.com
PPC Rainmakers is a team of Google Certified PPC Experts. We are a support agency and use the proprietary Funnel Science software to develop and hone your online sales funnels. We are a specialized team of marketing experts with consultants certified in Google AdWords® PPC Marketing, Google® Analytics, Google® Display Marketing, Bing® PPC Advertising, Facebook Paid Ads and Youtube® video ads.
PPC Rainmakers  was founded in 2013 by Alex Fender, a Google Certified Marketing expert. Before becoming an expert in the field, Alex fired more than 50 marketing, SEO, lead generation companies at the second company he owned. He was so frustrated that he set out to build a marketing company that could execute and deliver high growth marketing campaigns.
What makes our process unique are the analytics to directly measure the impact on conversion rate, sales close ratio's, revenue, profitability and the impact of time to purchase. Through data mining and pattern recognition techniques, executed with machine learning, Funnel Science® emerged as a leading predictive analytics marketing and sales tool.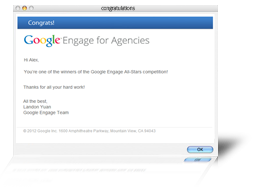 In 2012, Alex was 1 of only a handful of Google Adwords Experts personally invited by Google to enter into the 2012 Google Engage All-Stars Competition. Alex and his team outperformed his colleagues and were announced prize winners on June 21, 2012. In July of 2013, Funnel Science won the 2013 Google Engage All Stars competition and was flown to Google Head Quarters to meet with executives from Google at the All Stars Summit. The PPC Rain Makers team won the All-Stars competition from 2012 to 2015.

We 1st become a 
Google Adwords Certified Partner
 back in 2012.
Now we have the highest ranking a Google Certified Company can achieve as the Google Premier Partner
PPC Rainmakers is comprised of a multidisciplinary team of Google Certified Consultants, Graphic Artists, PPC Analyst, Developers and Conversion Optimization Experts.
Our company has worked with 1,000's of leading brands and marketing agencies and we are looking forward to helping your company grow. Call for a free consultation or request more information in the form below.
 Contact Us
(888) 481-2644
2800 Regal RdSuite 101
Plano, TX 75075
If you want to dramatically increase your ppc marketing results or ROI, complete the form below and a Rain Maker will immediately follow-up.
We typically respond in 10 minutes or less during business hours or at 8:00 A.M. CST if submitted after hours.